After a brief stint away from my South East Asia Weekly News and Views blog, I'm back this week with a bigger and better schedule than before. Over the next 10 weeks, I will be writing from South East Asia and hope to reflect fairly and honestly on the region.
I will also be looking to expand from the written word that has been the usual style of this blog so far and move into incorporating a variety of journalistic mediums. With the hope to better convey news from both on the ground and abroad about my favourite topic of discussion 'South East Asia'.
The new mediums that you can expect to see on the 'Harrison White News & Views' website will include, a podcast (because it seems I am the only blogger to not do one these days), data visualisation (included in this post and a useful tool that I hope can make complicated data analysis easier to digest) and a few others.
Every post will include a weekly theme and I will continue to include the reader favourites of '#watchthisspace' and 'Photo of the Week' (the segment that by far receives the most emails). I will also be hoping to do my first ever interview on the blog that will be both recorded and transcribed for readers.
The first 6 weeks of this 10-week period will be written 'on the ground', with this weeks post written from my favourite city Bangkok. The next few weeks will be from Pattaya, before moving onwards to my second favourite city Phnom Penh and if time and plans permit a trip to a local village in Cambodia. Of course ideally and a common complaint from my readers (yes there not all fan mail) is that I don't write every post from on 'the ground' as the saying goes. As much as I would like to write every post from a South-East Asian city this is not possible. However, as mentioned in my previous posts, I will be looking to make the move permanent to South East Asia permanent (most likely Phnom Penh) next year and as of today, this is still my timeline.
Back in the Big Mango
This week has been my first visit to Bangkok since 2018, and what an eight months it has been. The country is still reeling from its first election since the 2014 Thai coup d'état installed coup leader General Prayut Chan-o-cha as prime minister, and the first held in accordance with the 2017 constitution, which was drafted under the ruling military junta. With the election mainly seen as a widely skewed race in which Prayut—who previously announced his entry into electoral politics—had an unfair advantage, as the 250 sitting members of the appointed Senate were to be pre-selected by the military junta.
Whilst it must be said that for your average Thai tourist the political unrest it very unlikely to interfere with your holiday plans, and only those that take a keen interest (such as myself) in South East Asian politics would actually realise the current political turmoil in the Kingdom.
Fingerprint Scanners
The newly installed fingerprint scanners installed at Bangkok's Suvarnabhumi Airport.
Whilst political turmoil may not appear obvious to newly-arrived tourist, the newly installed biometric machines installed in all Thai international airports most definitely are. The immigration officials are now requiring any foreigner wanting to enter the Kingdom to follow the protocol of 'Right Hand 4 Fingers', 'Left Hand 4 Finger' and 'Both Thumbs' for scanning.
The whole process takes on my count around 2:30-3 minutes for scanning the passport, taking the photograph and doing the three fingerprint scans. Where my previous experiences have taken a processing time of 1 minute on average, often less, it is needless to say the impact this is having on immigration wait times. With a meeting being planned by the top brass this week to discuss the ongoing issue. For anyone who has taken a long haul flight the last thing anyone wants to do is stand in a line for hours on end and truly is a terrible welcome to country.
Bangkok Pollution
The second most noticeable change after a few days wandering around downtown Bangkok, was the level of pollution that was at literally toxic levels that last time I visited has been greatly reduced. Living in the Big Mango over the 2018 Christmas period resulted in two trips to the Ophthalmologists for a severe eye infection, several rounds of sinusitis and a constant 'smokers cough'.
Whilst, of course, there was still a thick blanket of smog that could be seen hovering over the city skyline. The near debilitating level that of pollution that caused Thai citizens to wear apocalyptic surgical masks, along with the closures of schools and government buildings are gone and make for an infinitely nicer environment to be in.
The Unstoppable Baht
After the fingerprint scanner and much-improved air pollution, the flashing neon signs of the local currency exchange booths are third on my list of hard to miss. However, as any regular visitor will tell you the numbers on these boards have only been heading in one direction, and this is especially true for the Australian Dollar.
The Golden Days
The story of the Australian dollar to its counterpart the Thai Baht has always been one of ups and downs. Of course, the 'golden days' of 1998 or the 'halcyon days' of 2012, where 1 Australian dollar could fetch well over 30 Thai Baht appear to be long gone, but of course, these two exceptional periods of monetary exchange could never be expected to last.
The first such exception being the 1997 Asian financial crisis and period of financial crisis that gripped much of East Asia and Southeast Asia begun in July 1997 and raised fears around the world of an economic meltdown due to financial contagion. Known in Thailand as the Tom Yum Goong crisis, with the financial collapse of the Thai baht after the Thai government was forced to float the baht due to lack of foreign currency to support its currency peg to the U.S. dollar.
Such poor policy decisions ensured the beginning of an international chain reaction. At the time, Thailand had acquired a burden of foreign debt that made the country effectively bankrupt even before the collapse of its currency. As the crisis spread, most of Southeast Asia and Japan saw slumping currencies, devalued stock markets and other asset prices, and a precipitous rise in private debt.
The second exception was this time on Australia's end with the 2012 mining boom reaching its peak. Beginning in around 2003, when prices for Australia's favourite commodities such as iron ore and coal began to rise. With the price rise almost exclusively driven by the huge increase in demand from China and a few other developing Asian countries (ironically in response to the lull of investment that came from the 1997 financial crisis discussed before).
Other factors also included very low commodity prices for more than a decade and companies like Rio Tinto and BHP Billiton had been under-investing in creating new supply. With no-one anticipating the surge in demand and the swift rise in prices that occurred over these years.
Thai Baht – Australian Dollar (1960-2019)
This graph reflects the ups and downs over the past 60 years and shows the current downward trend since 2012.
Why The Rising Baht
Speaking to a few in the know about the rapidly rising Baht, I am told it is mainly due to two main factors. First, Thailand's $207 billion of foreign reserves and secondly, partly by Australia's current soft economic outlook. However, as much as expats (who get paid in dollars) and tourists complain, the strong Baht has provided a bigger headache for many low-income farmers and factory workers who rely on the Thai export market for a stable income.
In response, the Thai Government has created a stimulus package that includes subsidies, soft loans and a product price guarantee for farmers. The government will allocate 210 billion Baht of the entire package of these measures. The government will also aim to distribute 1,500 Baht each to 10 million low-income citizens to boost domestic tourism. With the Thai government seeking to provide a series of allowances such as for cost of living, commuting expenses, cooking gas subsidies and job training expense, for low-income earners, depending on how much they earn yearly. It will also implement measures to improve accessibility for small and midsize enterprises to funding for cash flow and machinery investment.
The Impact
Away from local impacts the high Baht is causing and reflecting on expats scene. I am told from a local bar manager that the impact of the poor exchange, rapid cost of living and historically low term deposits has resulted in the triple threat and has all made for an extremely volatile situation for the local expat/retiree. With those that have moved to Thailand prior to 2012 having their income fall by as much as 30% over this period and are now having to take extreme cutbacks to discretionary spending.
These cutbacks on discretionary spending are now having a severe impact on businesses geared towards accommodating for the western market; think bars, restaurants, massage parlous and domestic services. Many of the exact business that employs the same low-income earners that have not been able to find work in the export-heavy industries of farms and factories. Reports have also included funding for partners and their families are dramatically down over the past 12 months and whole communities are feeling the pinch.
However, perhaps by far, the biggest consequence of these price shifts is the entire movement of this demographic altogether. With many being forced either back to their respective countries or choosing to migrate to the 'cheaper' options of Vietnam and Cambodia. With Vietnam reporting a massive increase in western migration over the past five years, whilst Cambodia picking up a percentage too.
#watchthisspace 
Bangkok
According to one of the biggest developers in Southeast Asia, the impact of two months of increasingly chaotic protests in Hong Kong is driving investment money out of the city and into the perceived safeness of Thailand's property market.
In Hong Kong, where pro-democracy demonstrators have filled the streets since June, development and high-end investment are on hold. Last week, CK Asset Holdings and Sun Hung Kai Properties decided to postpone sales of new multi-billion-dollar projects, and transactions in the secondary market are down sharply, especially for luxury homes.
These circumstances may add another tailwind to the luxury market in Bangkok, where a tourism boom has put the city on the map for investors, especially mainland Chinese who have come in droves.
Vietnam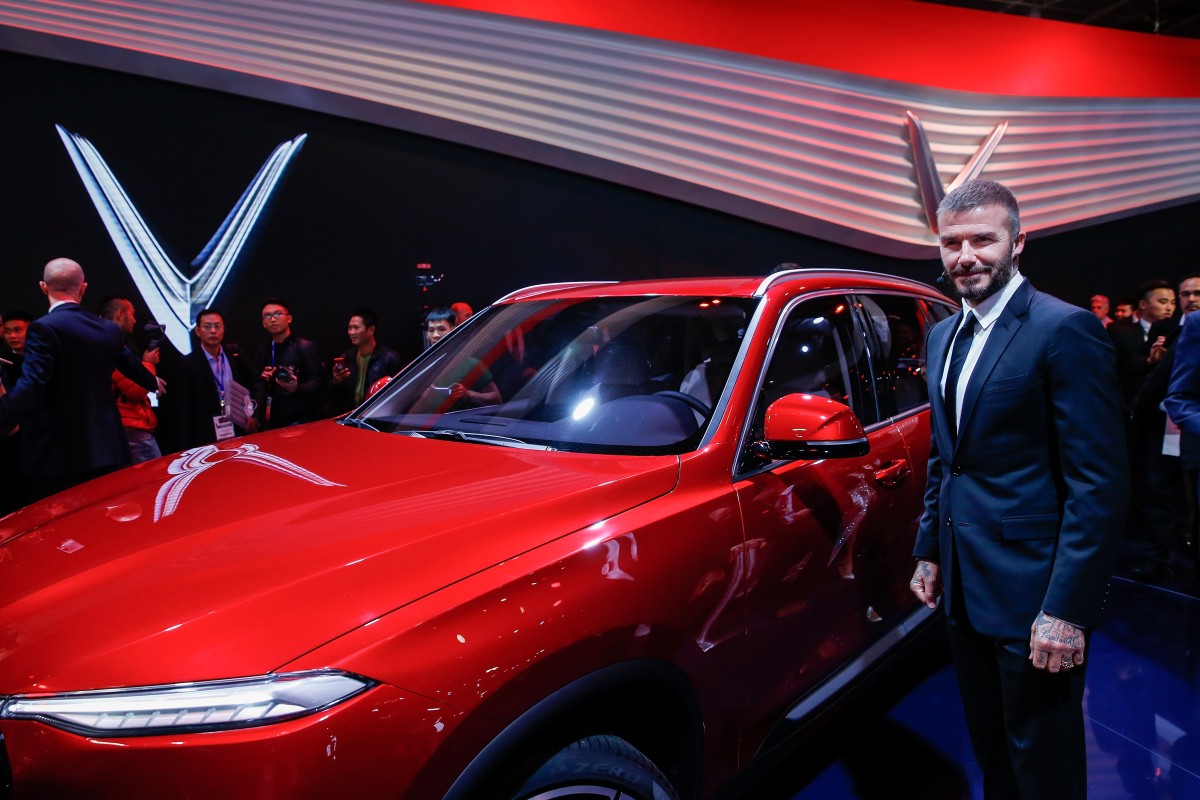 David Beckham at the VinFast launch at the Paris Motor Show. (Photo: Getty Images)
Moving to Vietnam and the company VinFast's ambition to become the national car brand of Vietnam has gone up a gear with the first deliveries of its two luxury models to customers.
With the recent roll-out of the Lux A2.0, a sedan that retails for US$65,000, and the Lux SA2.0 SUV that starts at US$86,000, the automobile company owned by Vingroup, Vietnam's largest private corporation, hopes to avoid the fate of other Southeast Asian car companies, such as Malaysia's Proton, that have launched with much fanfare only to stall later on.
As I have been regularly reflecting on since 2016 for anyone looking to invest Vietnam is by far my best recommendation with massive growth and relative stability. The country is seemingly going from strength to strength and whilst of course, this will bring with it some teething problems the outcast appears seriously bullish for the next 10 years.
Singapore
Singapore's Prime Minister Lee Hsien Loong on Sunday said the city-state would resolutely stick to its policy of maintaining good ties with the United States and China even as the two major powers remained at loggerheads.
He acknowledged the difficulty the Lion City was facing in maintaining that neutral position because of pressures for the Chinese-majority country – which has significant security ties with Washington – to pick aside.
"Being a Chinese-majority country can at times put us in a difficult position, because our words and actions may be easily misunderstood," Lee said in his National Day Rally speech, an annual policy address.
In the wide-ranging speech – delivered in Malay, Chinese and English – Lee addressed a slew of issues, including a multibillion-dollar "50- to 100-year plan" to fortify the island nation from rising sea levels, a staggered increase in the official retirement age, and significant increases in financial aid for preschool and tertiary education.
Singapore may well prove to be a bellwether state for what will be a fascinating decade as South East Asia attempts to navigate what appears to be the biggest question facing every Government right now; China or America.
Photo of the week:
This segment is always intended as a light-hearted section of the weekly post that I hope does not cause any offence. However, acts as a conduit for discussion about the lighter side South East Asia.
This photo was taken in an undisclosed Bangkok bar and supplied by a reader who does not want to be identified.
The Week Ahead:
Next week I will be writing from one of the world's most notorious cities Pattaya. With the low season well and truly underway I will be very interested to see how many businesses are able to survive and will report back in next weeks opening piece.
The main topic of discussion will be on the 'Changing Face of Thai Tourism' and will attempt to take a practical look at your 'average' tourist in Bangkok, Pattaya and Chang Mai (the big three). With an angle on the decline of Western tourism and an increase in Chinese and Indians along with how a business needs to cater to their needs.
As they say, it will be a big week in South East Asia so I hope you tune in and as always continue to send in emails with comments or complaints, stories and photos. As it is these emails that I rely on for not just the inspiration to write a weekly blog but also the ideas I get for the news and views that I post.
Harrison White can be contacted at harrisonwhitejournalist@gmail.com