What a week it's been for me in Bangkok, revisiting some of the old haunts of downtown Sukhumvit and checking out the ageing yet still undisputed backpacker mecca of Khao San Road. It was definitely a walk down memory lane as I remembered my first trip to the Kingdom nearly 5 years ago. My main takeaway is the same every year I revisit Bangkok, I find the city becoming less of the cheap and cheerful place I remember. With drink prices feeling more like a menu at a trendy Melbourne bar and the faces of those serving even less friendly, in the tourist's strongholds it is definitely not the 'land of smiles' Thailand became famous for.
It must be said the food was as good as ever and even with the previously reported issues of food stalls being forcefully evicted from city sidewalks there was still plenty of options and at truly bargain prices. There is still something about Bangkok that it somehow maintains my number one spot of Asian cities. The key is to get away from the main drags, learn a few words in Thai (or better yet befriend local) and drink where the Thai do.
A Few Photos From On The Ground This Week:
Some wild weather approaching the main drag of Pattaya's Beach Road (short and intense downpours is common for August).
The iconic Pattaya sign next to infamous abandoned 53-story condominium and hotel project at Bali Hai Pier.
The view from Pattaya Pier looking onto the numerous speed boats that charter Chinese tourists from the mainland to the islands.
This week I have travelled away from the concrete jungle of Thailand's capital and headed South to the coastal town of Pattaya, only my second ever trip to the notorious location. The two and half hour trip itself was relatively painless as I opted against taking the countries infamous local vans that leave the major hubs of Mo Chit and Ekami. Instead, I utilised my newly downloaded Grab application, whilst it was considerably more expensive (B2000 for a Grab car compared to B200 for the local van). The comfort and convenience was worth it, being picked up and dropped from the location of your choosing can be a godsend in the humidity and heat of South East Asia.
As I briefly touched upon at the end of my last weeks' post, I was somewhat concerned about what I would find in Pattaya as all reports had been stating a dire low season for many bars and clubs along the strip. With the city recording a rare combined drop in tourist arrivals and spending in the first quarter of 2019. Official figures displaying the number of visitors falling 0.7 per cent from last year to 3.5 million and foreign tourism receipts sliding 1.3 per cent to 184.5 billion baht (Sourced via Bloomberg).
Spending a few nights around the main drags of the tourist precedent Walking Street and the Western retire stronghold of Soi LK Metro. Numbers did seem down even for low season, but it didn't appear the dire situation that many had been reporting. Speaking to a few bar owners along the main strips the biggest topic of conversation was not so much the drop of the overall tourists' numbers, however, the changing nationality of the actual tourists themselves.
Embracing The Changing Face of Thai Tourism
To understand tourism in Pattaya as with most things, you need to start with the history books. It may seem hard to believe but up until the 1960s, Pattaya was just a sleepy fishing village and over an 8hour dirt road drive from the Bangkok capital.
In 1954 when the Vietnamese military defeated the French in the First Indochina War, effectively splitting the country in two between the communist North and the democratic South. These escalations saw a negotiated deal between the US and Thailand for a strategic Air Force base in Sattaship named U-Tapao, and only a 30-minute drive from the once unspoiled Pattaya beaches.
As the war escalated so to did the number of GI's stationed at U-Tapao and South East Asia more generally. All of these men needed a place for R&R and soon Pattaya's bamboo hut bars became fall of young, cashed-up GI's, looking for a week of good times. Over the next 50 years, Pattaya experienced a slow yet unstoppable increase to be known today as the red light capital the world.
US troops on R&R eating along Pattaya Beach 1967 (Source: ILovePattaya).
The first stop for any new and curious foreigner is the aptly named 'Walking Street', which is best described as 500meters of degeneracy. A street where neon lights cover the rafters with bar names such as Sugar Babes and Hot Tuna instantly set the mood. Draw your eyes away from the shining lights and you'll find a parade of young, scantily clad girls grabbing at your hand as you pass by. Some of whom are placed in sandwich boards advertising happy hours and ping pong shows, written in a list of languages for all to understand. The internationalism of Pattaya's red light scene is something to behold, with a large amount Russian, Indian and Arab bars making a large portion of the street.
Whilst the main tourist of attraction of Walking Street was packed with punters a quick detour off the main drag and an exploration into Pattaya's many other Soi's (Thai for streets) the scene very quickly changes. Most are empty, with a very depressing sight of a dozen women sitting on bars stools playing with their smartphones with only one or two customers to 'entertain'.
Although speaking to a few in the know locals, most say 'Walking Street' is all for show these days. With many tourists just there for a 'selfie' and are in bed by 10pm to keep to their hectic tour guided schedules. The reason I'm told is the huge demographic change that has occurred in Thailand over the past 10 years. Official statistics show mainland Chinese tourists have increased from around 1million in 2006 to 10million in 2017.
This is also amplified by the banned yet widely conducted practice of 'zero dollar' tourism packages. Where a tour operator will organise a one time upfront payment with the promise of no spending dollars required, usually over a 5-7 day trip. Naturally creating an environment where all meals are eaten at the hotel, no drinks are offered and a schedule that is based around being herded through key tourist attractions with nothing but a photo.
The recent announcement by Thailand's Tourism authorities that Thailand received about 180,000 Indian tourists in June, setting a new record for the number of monthly arrivals. These figures should cause some serious reverberations around not just Thailand but the tourism industries across the whole of South-East Asia.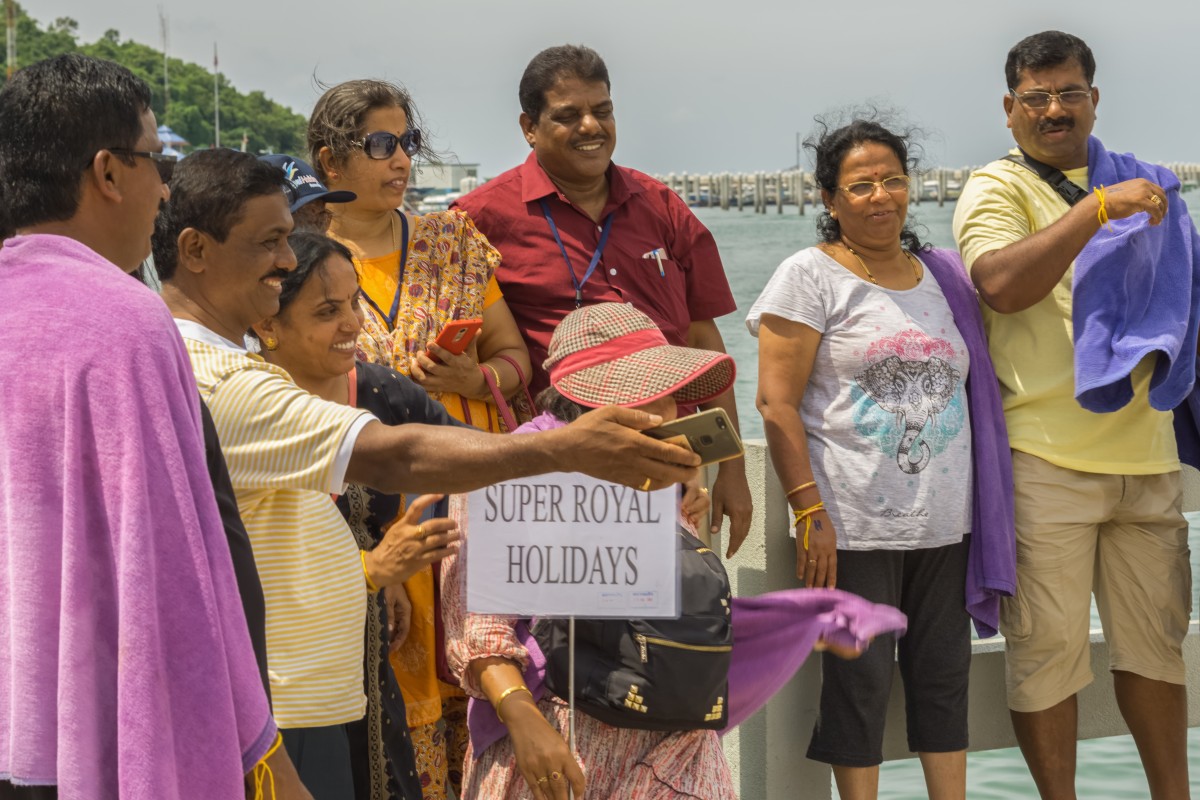 Indian tourists on Koh Larn, an island near Pattaya, in Thailand (Source: SCP)
Geographical proximity, a rapidly growing middle class and a booming economy have the number of Indians visiting Thailand set to take off. With 1.5 million Indians currently visiting Thailand annually, compared to almost 11 million Chinese. I'd expect to see double-digit growth in the number of Indians visiting Thailand for years to come, possibly even decades.
It is this rapid expansion of the middle class among India's 1.3 billion people that has prompted Thai authorities to upgrade their estimates for Indian visitors to the Kingdom. With estimates that at least 10 million are now expected to arrive in 2028, equating to a more than five-fold increase on 2018 arrivals. With this level of growth, mirroring the same meteoric rise that the Chinese tourists had, who jumped from 800,000 in 2008 to more than 10 million last year.
Although China will remain the most prominent market, it is much less likely to offer the growth potential in the years ahead. India, meanwhile, is set to become the new expansion story in Thai tourism, an industry that accounts for about 20% of  the countries gross domestic product.
Currently, Chinese visitors currently making up 28% of total foreign arrivals, well ahead of Indians at 4%. But within a decade, Indian arrivals are forecast to surge to about 15% of the total, while Chinese are predicted to hover around the 30% mark. Given the structure of Indian society, I wouldn't be surprised if the majority of these Indian visitors are men.
However, even with such promising figures predicted by many in the industry, many business owners are still failing to cater to the Indian market. With many hotel and bar owners even refusing to allow Indian tourists to drink or stay in their establishments. Whenever this subject is raised to business owners their response is always the same; with many regaling to me the old wives tale of a group of ten young Indian men sharing a single beer for an hour, or attempting to haggle down the price of every item on the menu.
Continuing the sentiment that all Indians are the epitome of no-good cheap Charlies, although whilst of course, this stereotype does exist. For anyone who has travelled to India can attest there is a genuine culture of haggling for everything. Hence when a first-time Indian travellers hears 1000 or 1500 baht quoted as an opening price (of anything), they are absolutely certain the real price must be 500. With the mentality that they just need to work at it for a while, as to there is a strong custom to bulk sale deals (get 2 items for 1.5 the price of one). However, whilst this may be the anecdotal evidence, the same report also stated that the record-breaking arrivals also found on average Indians spend 11% more per trip than the average foreign visitor.
At a time when many bar owners are wringing their hands with the massive exodus of American, Australian and European tourists (reasons well reported), here is a market that is ready and willing to come and spend money. From an outsider looking in it appears the main reason many business owners are negating Indians is because of paternalistic racism. Predominantly from a sector of the expat community that feel there place at the top of the pecking order is under threat from their 'little brown brothers'.
#watchthisspace:
Malaysia
Malaysia's Kuala Lumpur International Airport (KLIA) continues to suffer from a system glitch, with the airport authorities advising passengers to be at the terminal four hours before their departure.
Airport operator Malaysia Airports Holdings Bhd (MAHB) said its team is still in the midst of stabilising the system. The airport has urged passengers to arrive at the airport up to four hours early and check-in via their respective airlines' mobile app or website.
This should be of considerable note to the many Air Asia customers that fly through Kuala Lumpur Airport for the connecting flights.
Vietnam
Australian Prime Minister Scott Morrison has been urged to raise human rights concerns with the Vietnamese government when he makes his first official visit there this week, including the case of Australian citizen Chau Van Kham who has been detained since January.
The prime minister travels to Hanoi on this week to discuss the strategic partnership signed by Australia and Vietnam in 2018 with Vietnam's prime minister, Nguyễn Xuân Phúc. The talks are focused on trade and investment, with Australia keen to talk up the strong strategic partnership in the face of rising Chinese aggression in the region.
For those who haven't been following the story, Chau Van Kham is an Australian citizen who has been languishing in a Vietnamese prison for six months without a lawyer has said the allegation that he's a terrorist is "ludicrous".
He is being investigated for allegedly trying to "overthrow the state" under Vietnam's sweeping national security laws and for entering the country on false documents. The Australian retiree is also a member of Viet Tan, a pro-democracy advocacy group which is branded a "terrorist" organisation by the Vietnamese Government.
Cambodia
Last week, the CNRP announced that Sam Rainsy and several other high-ranking party officials will return to Cambodia from exile on November 9 to coincide with the 66th anniversary of Cambodia's independence from France, despite threats by Prime Minister Hun Sen to imprison them.
Sam Rainsy recently vowed to lead two million migrant workers from Cambodia in Thailand, South Korea, Japan and other countries home when he returns from exile to lead what he says will be a restoration of democracy in the authoritarian Southeast Asian nation.
Sam Rainsy has been living in Australia after being jailed and exiled during the 2018 national elections.
This was a tweet from Australia's Shadow Health Minister Chris Bowen: Tweeting 'Always good to see my old friend Sam Rainsy, a champion of democracy for Cambodia. Welcome back to Australia. Rainsy will be returning to Cambodia in November, in a very brave move to push for a return to democracy, and we wish him the very best.'
Photo of the week:
This segment is always intended as a light-hearted section of the weekly post that I hope does not cause any offence. However, acts as a conduit for discussion about the lighter side South East Asia.
This photo was taken in Thailand and supplied by a regular reader.
The Week Ahead:
Next week I will be travelling to the 'Pearl of Asia' and Cambodian capital Phnom Penh, where I will be spending the next three weeks and I will be looking to get some insight into the cities current state.
The main topic of discussion will be on the current crisis of dengue fever throughout South East Asia and how the mosquito carrying infection is not only killing but also financially destroying families with hospitals bills to care for their loved ones.
As always the usual #watchthissapce and Photo of The Week will be featuring and any emails on this or previous weeks posts would be most appreciated.
Harrison White can be contacted at harrisonwhitejournalist@gmail.com