This week I left the Kingdom of Thailand and entered the Kingdom of Cambodia, choosing to fly the with the budget airline Air Asia. A company that I have personally never had any issues with, however, they do have the inconvenience of having to depart from Asia's oldest operating airport Don Mueang. For those who haven't travelled out of Don Mueang, it feels as though one is travelling through an airport museum. With old-world kiosks and a flat design that requires a walk across the hot tarmac and up a flight of stairs to board the plane.
The flight itself is an easy hour and a much more relaxing trip than the previous overland ventures I have undertaken in the past (the border crossing at Poi Pet is definitely not missed). The Phnom Penh immigration is always a bit of a circus with the over-complicated process of applying for a visa on arrival still in place. However, a much welcome change has been made with a small stamp replacing the full page sticker that used to be stuck in your passport. With only 36 pages in a typical 10 Year Australian Passport, a few years of travelling between Thailand, Vietnam and Cambodia these full-page stickers really start to add up.
A Few Photos From On The Ground This Week:
View from the tarmac of Don Mueang. Whilst walking to your plane is hot and tiresome I do enjoy a certain nostalgia when reflecting on the first experience of Thailand many Westerns would have had over the years
The view from Moon Bar located on the Phnom Penh riverside and overlooking the Tonle Sap.
A big downpour in Phnom Penh and an experience that comes most afternoons this time of year.
A local lady making the Cambodian staple Mee Cha for 5000 Riel ($1.25USD). This stall is one of my favourites and can be found next to the Old Market on 13 St.
Whilst the change from sticker to stamp is a much-needed improvement the trip from Phnom Penh international airport to the cities main tourist area seems to be getting worse with every trip I make. As there is only one road in and out of the city, the arterial becomes blocked with converging motorbikes, tuk-tuks, heavy trucks and tour buses all making for a very unpleasant ride.
Spending my first week around the tourist strongholds of 104 St, 130 St, 136 St and Golden Soya Mall the low season tourists numbers of Thailand don't appear to be hitting Cambodia. If anything the country appears to have been taking up the overflow of those who feel Thailand is too expensive and look to Cambodia for a cheaper getaway. Speaking to a local Phnom Penh bar owner I was regaled the story of a group of regular drinkers that had been frequenting his bar for years only to leave for the bar down the road when they started advertising 75cent draft beers (compared to his $1). These are the stories that make me highly doubt the Thai Tourism Authority are concerned over losing these types of tourists, if anything, in my opinion, these are the exact type of tourist they are looking to avoid.
With the start of the rainy season in Cambodia starting early, many expats and tourists will be looking forward to (the marginally) cooler days and some refreshing breezes in the afternoon. However, it also brings the buzzing of the cities mosquitos and with such are causing a devastating effect for the countries rural and poor for which proper treatment is simply not a financial option.
Dengue Fever and The Kantha Bopha Foundation
The Dengue virus has always been a concern across Asia, with the first recorded case of probable dengue fever being recorded in a Chinese medical encyclopedia from the Jin Dynasty (265–420 AD) which referred to a "water poison" associated with flying insects. As too the first recognised Dengue epidemics occurring almost simultaneously across Asia, Africa and North Americain the 1780s, shortly after the identification and naming of the disease in 1779. With the first confirmed case report dates from 1789 and is by Benjamin Rush, who coined the term "breakbone fever" because of the symptoms of myalgia and arthralgia.
The early symptoms of dengue fever are a rapid onset of a high fever, severe headache behind the eyes, joint pain, and sometimes a rash. These symptoms develop about five days after being bitten by an infected mosquito and last three to five days. Infection by one strain induces immunity to that strain for life. However, problems occur, especially for children, when they become infected with a second dengue virus strain between six months and five years after their first infection. Instead of preventing infection by another strain, immunity actually enhances the new infection and makes the disease worse. This has become the concern for Cambodia's many rural and poor children who have experienced multiple infections and parents with no financial means to provide medical care.
The Pickled Parrot Restaurant that supplies food and water every Tuesday to the children waiting outside the hospital.
Each meal consists of rice, chicken and pickled vegetables along with a bottle of potable water. Each meal costs $1USD and is entirely funded by the restaurant and its patrons. There are 70 to 100 meals provided.
A poster that has been distributed around Cambodia displaying ways to reduce Dengue Fever. (Source: Cambodian Government)
Luckily there are NGOs that are attempting to solve this problem one of which is The Kantha Bopha Foundation that has released figures stating nearly 600 children were hospitalised with Dengue Fever across their five locations every day. Because Kantha Bopha Children's Hospitals provides free medical care, many parents take their children to one of its hospitals when they suspect their child may have Dengue Fever.
The Kantha Bopha Foundation was first established in 1992 by Dr Beat Richner who was a Swiss pediatrician when they opened their first clinic in Phnom Penh. Today the foundation operates five hospitals across the country and take care of approximately 85% of all the sick children in Cambodia. All the treatments are free of charge as 80% of patients come from families with a daily income of $1.00USD or less.
Unlike many of the other NGOs that operate throughout Thailand and Cambodia that have a massive percentage of running costs. The Kantha Bopha Foundation has only 5% of their total funds required to run the infrastructure of their foundation based in Switzerland and only 5% of the hospitals' funds spent on administrative tasks. In order to avoid the traditional, cost-intensive hospital management and the bureaucracy that goes with it, the hospitals have allocated those tasks which can be dealt with locally, including logistics, to those members of the medical staff who have the necessary administrative skills.
The foundation also employs over 2,500 Cambodian staff all of whom earn a living wage in an attempt to avoid theft and corruption that has become widespread across Cambodia's health sector. According to the foundations' official reports, there has been no thefts or misappropriation of medicine
I have seen the good work this organisation does and to donate to this foundation click here.
#watchthisspace
Thailand
The Thai government is considering what could be the world's first prison facility exclusively for LGBT inmates. Although the plans are still being discussed, LGBT inmates at the Pattaya Remand and other prisons across Thailand are already kept apart to prevent violence, officials say.
The prisons must separate lesbian, gay, bisexual, and transgender prisoners from other inmates, under a policy that is little known, despite being in place nationwide since 1993, according to the Department of Correction.
Keeping in Thailand and The Association of Siamese Architects is recalling its Award for Outstanding Conservation of Architectural Arts from the British Embassy in Bangkok after the demolition of the former embassy building.
The ASA is also demanding the return of the award plaque, which was presented in 1984. The ASA says that the British Embassy building was being demolished without any regard to the historical and architectural value of the building. The association's committee on the presentation of the award met to discuss the issue and decided to recall the award and to demand that the plaque be returned to the association as well.
I personally believe the UK Government should give the sale price of 420 million pounds (about 15.67 billion baht) to the Thai Government too. After all the land was originally given to the UK as a gift from the then King of Siam.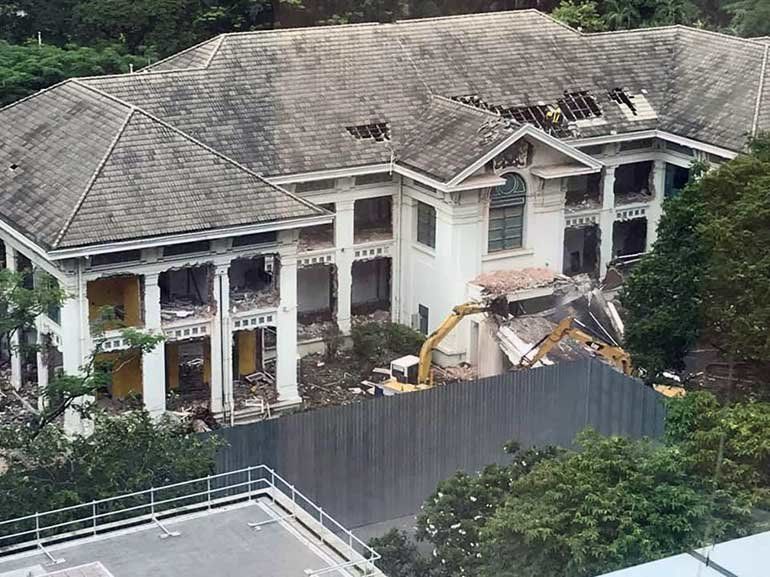 Demolition starts on the historic British Embassy in Bangkok. (Source: The Thaiger & The Nation)
Vietnam
Vietnam is intent on being the first ASEAN nation to provide a 5G network, however, without China's tech powerhouse Huawei Technologies Inc.
Viettel Group, Vietnam's largest mobile carrier owned by the Defense Ministry, will deploy Ericsson AB's equipment in Hanoi and Nokia Oyj's technology in Ho Chi Minh City, said Viettel Chief Executive Officer Le Dang Dung. It will use 5G chipsets from Qualcomm Inc. and another U.S. company. The carrier, which uses Ericsson and Nokia for its 4G network, is also developing its own equipment, he added.
I don't quite know how much this is a push back against China or just a case of providing a business advantage to the state-owned mobile carrier – probably a bit of both.
Singapore
A former regional manager who assaulted his Myanmar maid – the second domestic worker he was convicted of abusing – had his jail term for the second set of charges raised from 24 months to 30 months on Monday by the High Court. The increase came after the prosecution appealed against the sentence imposed by a district judge in March on Tay Wee Kiat, 41, on two charges relating to Moe Moe Than.
The charges are for kicking Moe Moe Than while she was in a push-up position and for instructing her to slap his other domestic worker, before making both maids worship in front of a Buddhist altar at home, even though one is a Christian and the other a Muslim.
This case has gripped Singapore as there has been a series of allegations against foreign domestic workers with some calling the work 'modern-day slavery'. With many of the maids deciding to run away from their employer and seek help after they are severely traumatised to such an extent that they fear to testify or claim compensation. Additionally, bringing these cases to court can take up to four years and chances of winning are often small.
Indonesia
Indonesia's President Joko Widodo has announced the country's capital will move from overcrowded, sinking and polluted Jakarta to a site in sparsely populated East Kalimantan province on Borneo island, known for rainforests and orangutans.
The new capital city, which has not yet been named, will be in the middle of the vast archipelago nation and already has relatively complete infrastructure because it is near the cities of Balikpapan and Samarinda, Mr Widodo said.
It will be very interesting to note what this will mean for Jakarta and how the business community will react to the change.
Photo of the week:
This segment is always intended as a light-hearted section of the weekly post that I hope does not cause any offence. However, acts as a conduit for discussion about the lighter side South East Asia.
This photo was taken on Bangkok's Soi 4 from one of my favourite pubs (Stumble Inn) and a scene that always makes me wonder how you would find the broken line.
The Week Ahead:
Next week I will be continuing my stay in Phnom Penh and will be attempting to record a few videos of daily life amongst the rapidly changing city.
For the main topic of discussion, I will be reflecting upon the resurrection of traditional Khmer cuisine and some of my must-try dishes in the city.
Please continue to send me through emails of stories, pictures and anything else that you would like to discuss about my favourite region South East Asia.
Harrison White can be contacted at harrisonwhitejournalist@gmail.com